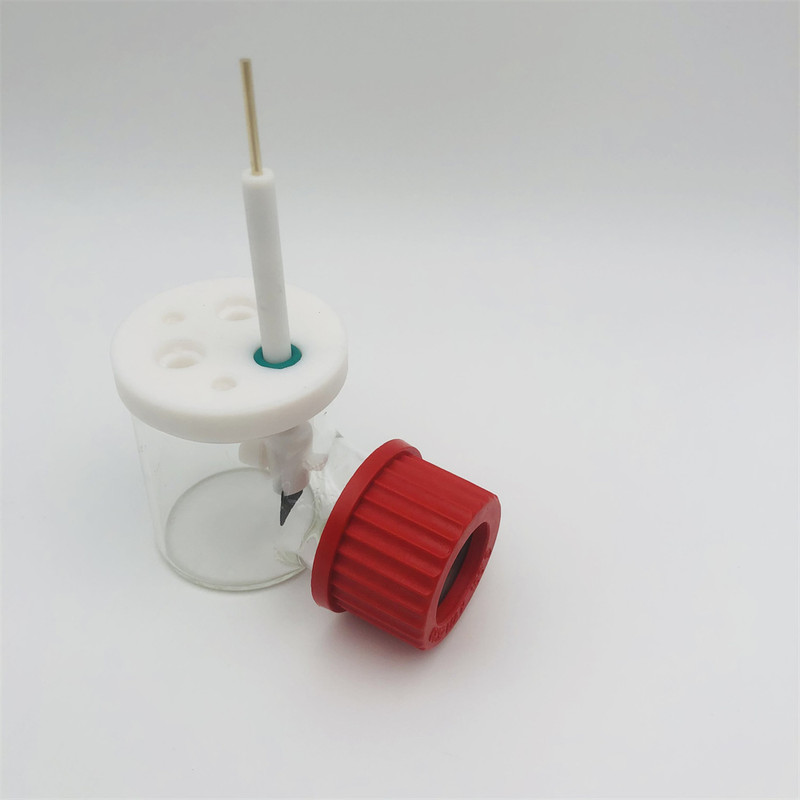 The photoelectrochemical cell is suitable for supporting equipment with horizontal and horizontal illumination of the light source. The three electrodes are on the upper part,and the working electrode should be as close as possible to the side of the light window.A vertical electrode clamp or a horizontal electrode clamp can be used to clamp the material for testing,so that the optical instrument can detect the working electrode from the side quartz light window.
The ordinary photoelectrochemical cell is the most basic optical reactor.The upper end is directly inserted into the three electrodes,and the working electrode is placed near the light window.
characteristic:
1.The main body of the electrolytic cell is customized with high borosilicate glass.This cell is equipped with JGS2 quartz plate, the size of the quartz plate is φ29*3mm. The spectral application range of JGS2 optical quartz glass is 220-2500nm.
2.The reference electrode can be purchased separately:Ag/AgCl electrode,Ag/Ag+ electrode, calomel electrode,Hg/Hg2SO4 electrode,Hg/HgO electrode,etc.
3.The counter electrode can be purchased separately:platinum wire electrode,platinum sheet electrode,graphite electrode,etc.
4.The working electrode can be purchased separately:L-shaped glassy carbon electrode,PTFE replaceable electrode holder,glassy carbon replaceable electrode holder,etc.
5.The electrochemical cell can be quickly assembled and disassembled for easy cleaning.
6.The effective diameter of the light window is 24mm.
7.Volume: 50ml,100ml,150ml,200ml
Check the details from this link: >> Photoelectrocatalytic electrochemical cell ordinary cell 150ml 220ml - Dekresearch