How to choose the size of Reference Electrode?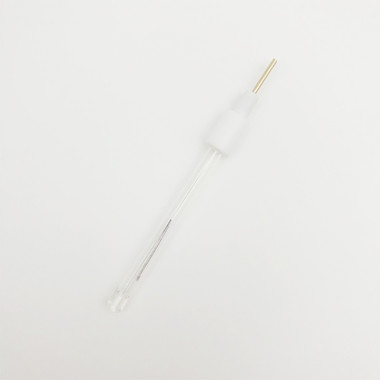 The diameter of ERA131B[Silver Silver Chloride Ag/AgCl Reference Electrode Φ4*50mm Glass Rod] glass tube is 4mm, which is not the best choice for CHR221B2. The diameter of ERA131A[Silver Silver Chloride Ag/AgCl Reference Electrode Φ6*70mm Glass Rod]is 6mm, which is more suitable for CHR221B2.
L
et me
briefly introduce this electrochemical cell for you.I attached two images, so you can see it clearly:
Figure 1
is the default opening diagram of

CHR221B2
[
H-Type Sealed Electrochemical Cell 30ml 45ml
]
.

The left side is the working electrode chamber opening diagram, and the right side is the counter electrode chamber opening diagram. As shown in the parameter diagram on our product details page, we place the working electrode and the reference electrode in a chamber, and are equipped with gas inlet and outlet holes [for inert gas protection and oxygen-free operation]. We placed a counter electrode in another chamber, which is also equipped with gas inlets and outlets.

Generally, we default that the electrode hole is matched with an electrode with a diameter of 6mm for sealing, and the gas hole is sealed with a diameter of 3mm.
Figure 2
is our design concept for the sealing hole. All electrodes or PTFE tubes are sealed by tightening the sealing screw and extruding the fluorine rubber O ring to block the gap between the electrode and the electrode hole or the gap between the PTFE tube and the gas hole. Therefore, assuming your electrode diameter is 6mm, we will open the sealing hole M12-6.7mm with O-ring for sealing.